Audio System Installation in McCall, ID
Whether you prefer a booming bass or high-fidelity sound that's perfect for podcasts and talk radio, Precision Detail can help you take your stereo installation to the next level. We've proudly enhanced the sound systems for vehicles throughout McCall, ID, bringing our customers the very best in stereo equipment and accessories from the best name brands in the industry.
Our experience with the installation process means you're covered from sale, to installation, to anything else you might need to pump up the jams in your vehicle.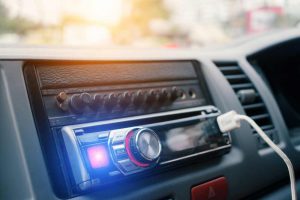 Upgrade Your Sound
Depending on the car you drive, your stock audio system can range from just okay to pretty great. For the highest-quality car audio, you'll need an aftermarket solution. That's where we come in. Our team can help you upgrade every facet of your vehicle's sound system—from door speakers to a trunk amp and everything in-between. Turn to us for booming bass, crystal-clear mid-range and sublime audio quality, no matter what your dial is tuned to.
Complete Audio System Installation McCall, ID
Anyone in McCall, ID can go to the store and buy aftermarket audio products. Stereo installation is a whole new ballgame. It takes a seasoned hand to ensure everything is wired in appropriately, configured accordingly and calibrated for perfect audio quality. Let our techs take the guesswork out of an audio upgrade and make sure your system works flawlessly across any media source and your entire library of audio.
Proven Names in Auto Audio McCall, ID
Our selection of car audio equipment is one of the best in McCall, ID. We know audio, which is why we bring our customers the absolute best in proven brand names and products. Some of the many aftermarket stereos, speakers, amps and woofers we stock come from names like:
Compustar
Firstech
Hertz
iDatalink Maestro
JVC
Pioneer
Polk Audio
Rockford Fosgate
Sirius XM
Sky High Car Audio
Sony
Wet Sounds
Outfit Your Car with High-Fidelity Audio
From stereos to subwoofers, speakers to amps, your new car audio system is waiting for you at Precision Detail. Stop in today and tell us more about what you're looking for. Our experienced installers can recommend brands and products that align with your budget and expectations. Questions? Give us a call at 208-634-3013 to learn more about our capabilities.